Lava Etna Tour- EVERY DAY  info n. Whatsapp +39 3207818434
Lava Etna Tour: the eruption, Etna Tour Excursion will make you admire and experience the thrill of volcanic activity.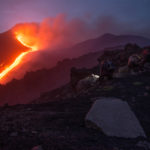 It will give you the opportunity to reach and observe, from different vantage points, the lava flows, Tour Lava Etna
The LAVA TOUR excursion is organized in the event of an ongoing eruption.
With this tour, using our 4 × 4 off-road vehicles and our specialized guides, you will have the chance to admire LAVA from privileged positions and when it is possible to approach the casting.
The itinerary may change as it is not possible to predict eruptions.