ETNA EXCURSION IN JEEP AND TREKKING FROM hotel il picciolo Etna golf resort 
Every day departure excursions on Etna aboard comfortable 4×4 vehicles authorized to visit the most important, active and interesting areas of Etna.
Departure from linguaglossa "meeting point,,,," in the direction of ETNA north east, after a couple of kms first stop inside the national park accessible with an authorized guide since there are about 45 lateral craters.
After a walk of about 50 minutes, you will visit 5 lateral craters, one of which is still open and you can observe the real size of a crater.
In this area you will observe all types of lava, minerals, volcanic desert and pioneer plants of the Etna volcano.
After visiting the high altitude craters on board the jeep, you will go 2 km off road to discover the last major eruption that destroyed the north Etna side, finally on the east side you will visit small craters inside with helmets and lamps (GROTTA ), an expansion chamber and a fracture of 26 km which divides Etna into 2 parts, it moves about 14 millimeters per year.
The visit will take place in areas of volcanological and scientific interest with a multilingual volcanological guide.
The tour is suitable for everyone even for families with children.
The return is scheduled for 13.00
Everything you need including jackets, shoes, helmet and lamp are free.
For INFO and RESERVATIONS
TEL.WHATSAPP +39 3207818434
www.etnatourexcursion.it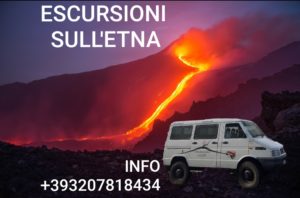 ⁷